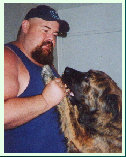 My youngest sister and brother Audrey and Raymond, live back in michigan and I love it when I get to go back and see them! I wish we lived closer so we all could be closer as a family. They are still in school and Audrey is a senior and will be graduating this year. I love them both, they have a smart head on their shoulders and I'm proud of both of them. Audrey I'll be back there for your graduation!
Well as for me now, I have my whole life in front of me. I quit my job when Seanda went into her coma (back in 1997) so I could help stimulate her. Now is the time to really sit down and think of what I really want to do. My plans are to go back to school and get trained in Speech Pathology and/or Physical Therapy. Those are the only two fields that would allow me help people that are in comas. That's what I want to do is educate their family and friends on the best way to stimulate a comatose patient. I had an accident in august of 2004 after I wrote all of this on this page. Click on the link below to read about my accident. I can't believe that I too was laying in bed and I opened my eyes only to realise that I just woke up from being in a coma myself now! Wow I'm counting my lucky stars and I knew I had a guardian angel to watch over me!!!!!! Thank you all for all of your prayers, warm wishes of encouragement and support! I'm getting better every day! I feel very blessed to still be here. Please read my story and tell others about it, it may safe a life! To read about my accident,
click HERE
My father passed away August 27, 2002 but what lives on is what he gave me. He gave me an education on how the world works and how complex people can be and how simple it should be. I got his part of my education from moving all around the U.S. and got to experience different people from different parts of the country! From Michigan (were I was born) we then moved to California. Then back to Michigan and started school and stayed there until I was out of 3rd grade. Then we moved to Phoenix, Arizona and for 5th grade we moved to Alief, Texas and 8th we moved to Baton Rouge, Louisiana. After 10th grade we tried Las Vegas for a summer and 11th grade I was back here in California for the first half of my junior year and the 2nd half of my junior year I was back in Michigan going to school with all my friends from elementary school! I finished 12th grade and college back here in California. So with all that moving I really got to experience a lot!! My dad loved being with the family, he loved us kids! Every time we talked on the phone thats all he talked about was Audrey, Raymond, Seanda and myself. He even called me the night he passed away. Thank you Dad, Love you!! God bless.
My mom is special because she has showed me what the necessities in life are. Like what is really important or when to take a break and when to get your butt in gear and go for it. She showed me how to take 3 bucks and make a 20 dollar meal! She continues to show me how import shelter, food, water is in the most loving way. She shows me how to protect and take care of the ones that you love, and that means a lot to me. Without her I would not ever be here, I owe it all to her. Thank you Mom, I love you!!
Seanda my oldest sister will always be my hero because she showed me what courage in life is all about. (This helps me every day!) She had diabetes since she was 12 years old and fell into a coma at 29 years old, then she passed away when she was only 32. She showed me how to be brave and keep your chin up when things keep messing up. Her quality of life physically was going down hill toward the end of her life before she went into her coma, but she knew how to still have fun and remind everyone who's birthday it is or what holiday it is. She celebrated life for she knew it was going to be short for her. She showed me how to be strong and enjoy life. Seanda I love you, thank you :-) Her death has gave me the strenth appreciate life each day.
Well there you have it, you can see the 1958 GMC Factory 4x4 Subarban that ran me over HERE or take a look at some photos of other GMC trucks HERE if you are into that and my Family & Friends photos HERE. Oh yeah, some pretty cool links if you are restoring an old truck or car HERE. You can e-mail me at anytime if you have any questions.
Thanks for stopping by,
Pee-Wee :-)
She was in a coma for almost 3-years and now I have gained a guardian angel :-) Oh yeah...a Brother-in-Law Steve, he was married to Seanda and I have always appreciated him...still do...PUDDING HEAD!! Seanda and my Parents are my heroes because I have learned a lot from each of them.
A little about me... I was born in Ann Arbor, Michigan. I have really cool parents that I respect a lot! I have two sisters and a brother...Seanda, Audrey, & Raymond. I just lost my oldest sister Seanda on December 29th of 1999 :-(
A little about me
A little about me